AFFORDABLE HOUSING AND SUSTAINABILITY IN KENYA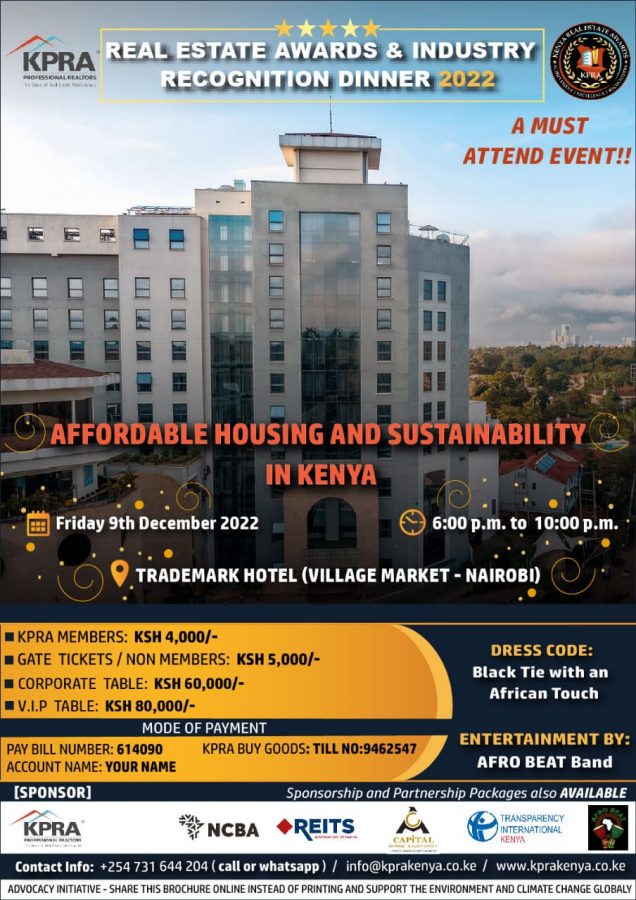 KENYA PROFESSIONAL REALTORS ASSOCIATION
AFFORDABLE HOUSING AWARD PARTICIPANTS  CRITERIA
This Award category for KPRA 2022 Awards and Recognition Dinner seeks to award organisations that are committed to meeting an everi-increasing market demand for affordable housing.
The category is focussed on all  home ownership Initiatives and is open to the private, Investors ,community and government sectors. Applicants will need to ensure that all subsidies from the government, if at all, are disclosed to allow like for-like evaluation.
This award aims to recognise and publicly reward the 'value for money' in a new or refurbished affordable housing development.
Eligible entrants will be developments or refurbishments that have been completed in the previous five years and have been operating for at least two years as at 30th September 2022.
Also where the development is multi staged the entrant may nominate a completed stage and will be awarded on the basis of the completed stage only. The entrant may also enter further stages as they are completed in future years but will only be recognised for those nominated stages not previous ones.
The award is open to all realtors/developers within Kenya. Innovation and creativity in your responses should be clearly expressed
ECONOMIC AND FINANCIAL FACTORS – 30%
Detail how the development demonstrates the opportunity for people on low to moderate incomes to afford home ownership on both an initial cost and longer-term operating basis. Judges will look at the positioning of the project against the median price for a particular location and/or product.
CONSTRUCTION MATERIAL , SUPPLIES AND INNOVATION – 15%
Describe how the development displays innovation in the project concept and in overcoming site or development complexities. This should be described as a point of difference.
SUSTAINABILITY AND DIVERSITY – 15%
Describe the projects approach to supporting people to maintain connection with their community and neighbourhood, avoid social isolation, increased broader economic benefit (such as ageing-in-place) and maintaining home ownership over a long  time.
Applicants may wish to address the projects specific demographic or sectoral responses such as durability ,accessibility, adaptability, health care or provision of other facilities for those with other abilities such as sensory impairment etc. with an emphasis on high amenity experience for occupants.
ENVIROMENTAL AND MORERN DESIGNS AND UNIQUE FINISHES– 15%
Detail and provide examples on how the development exhibits a high quality of architectural design; represents value for money and is compatible with surrounding land uses and contributes to the success of housing affordability (e.g. site constraints, unique design solutions, and project cost constraints). Include supporting pictures.
RESIDENT INVOLVEMENT & SATISFACTION – 15%
Describe, using testimonials from a variety of stakeholders, including residents, the extent to which the development has a proven high satisfaction level of all users.
6.SECURITY & GATED COMMUNITY INITIATIVES  – 10%
Security  and Neighbourhood watch,also describe, using testimonials from a variety of stakeholders,  accessability of key utilities such as water , power and waste management to the extent by which the development is considered  a success by the residents in the locality  or a particular affordability sector.
Entry in the Affordable Housing Awards Participants Cost of Kshs. 80,000.00 (cost of each VIP table that seats 8) per nomination.
We welcome both self-nomination and third party nominations.
All entries must be submitted via the official Nomination email address awards@kprakenya.co.ke .
Entries must stick to the set criteria and direction. Nominees are reminded that judges will not take into account formatting or presentation of entries.
Nominees must include 4-6 images to support their submission (Detailed Profiles and Showcasing). Other material relevant to support the application may also be uploaded as an Appendix.
All nominees should be prepared to attend a site inspection with the judges, should it be deemed necessary.
All nominations and contents will remain the property of the KPRA Awards Committee.
Please note entries are for to ALL REAL ESTATE PRACTITIONERS AND DEVELOPERS
The judge's decision is final and no communication will be entered into concerning the final decision.
KPRA reserves the right to publish the results and winner details.
The finalists should be available to attend the presentation ceremony at the KPRA REAL ESTATE AWARDS AND INDUSTRY RECOGNITION DINNER 2022 to be held at the TradeMark Hotel on 9th December 2022.
All entries must be received by 5:00 pm on Tuesday, 22th November 2022.
ALL ENTRANTS THAT BOOK AFFORDABLE HOUSING PATRON TABLES MUST PROVIDE THE COMPLETE LIST OF THEIR INVITED DELEGATES ( 8 PER TABLE ) BY FRIDAY 25th November 2022 to – Info@KPRAkenya,co.ke or by calling our Dinner Reservation number: +254731644204 .
Payments for this special guests- can be made using our
1) Paybill #614090– Account; Your Name.
2) TILL # 9462547 – or
3) By depositing to our account at EQUITY BANK– Westlands Premier Branch: Account # 1400260925860.
Businesses may do an LPO and request an Invoice to process the payment for No later than the day of the event.
YOU ARE ENCOURAGED TO APPLY AND BOOK YOUR TABLE by 21st November 2022